"We're happy, free, confused, and lonely at the same time
It's miserable and magical, oh yeah."
I turn 22 today, so, of course, Taylor Swift is playing on my laptop.The lyrics for her song, though, are relatable; they're things I've been feeling for the last while.
Everyone's been asking me where I see myself in the next five years. I've mentioned in previous posts how I've felt lost, and how this is a time where I'm rediscovering things about myself, and what makes me happy. My work, new material I've been exposing myself to, and various projects have helped me in determining a better idea of this.
However, that doesn't mean the confusion necessarily lessens.
I joke about how I'm being faced with #adulting, but it's true. Different responsibilities weigh on my shoulders than before; while it's been a quick transition with regards to how long it took to take on those tasks, and to try my best at them, my mind sometimes is still amazed at the idea of it all. I'll find myself asking: am I ready to do this? Shouldn't I have a better sense of what I am doing, and where I'm going?
I like research; Google and talks with friends help a lot. It's the latter activity, actually, which has helped me the most. Conversations with those who face, or have faced, the same transition provide reassurance, as well as advice. These talks are validation, which calms the insecurities, but they're also opportunities to bond, be vulnerable, and to let go of everything that plagues us.
"Tonight's the night when we forget about the deadlines, it's time, uh oh."
While I may talk about work and other struggles in my life with friends, we also have fun, be it with board games, food, or sharing stories, laughter ensuing these times. I love these people, those who I can have 'deep' conversations with, while also enjoying 'shallower' moments, times where I can be silly. I like being able to show multiple sides of myself, and knowing that these people will accept any of them, that I can be comfortable in revealing these aspects of myself. I can share my happiness and my fears. A place of safety and understanding is formed with these friends; no physical location is needed except for the space we share.
"I don't know about you, but I'm feeling 22.
Everything will be alright, if you keep me next to you."
People need people. (Don't mind me as I quote Skam; Noora Saetre's a favourite character, and if you know this show, talk to me.) I know I wouldn't be where I am today without friends, and I'm so grateful for all the people who've remained in my life, as well as newer ones I've met. Whether it is one conversation we've had, a smile shared, or several long Skype talks, as well as meetings over coffee, they've helped.
Some conversations have been life-changing, with regards to my perspective and understanding on various matters. Other gestures may appear smaller, such as just a well-timed joke that makes me laugh, or a listening ear to what feels like me 'babbling' out everything in my mind, but they are just as appreciated. These are what make people memorable to me, whether they remain in my life or if it was just a brief encounter, and they have no idea of there being such an impact.
When asked what I wanted to do for my birthday, or how I'd spend it, all I replied with was how I just wanted time with friends and family. I don't need gifts, if I have the people I love around me, and with me. Even if further away, I appreciate any well-wishes or thoughts from the individuals I treasure deeply.
It's nice to know there are people I can enjoy time with out there. And, no matter what happens with life, if I'm lost or facing issues, I know everything will be alright, if I have those people next to me.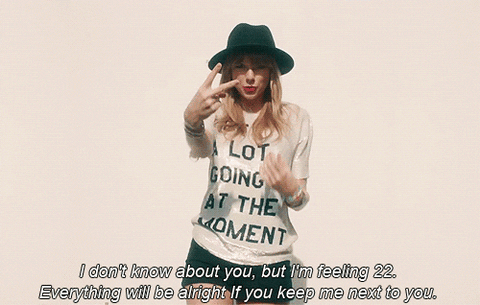 All credits for the gif goes to its maker.